Who we

are
As the largest provider of health benefits in Alberta, we believe we have the potential and responsibility to impact people's lives for the better. We believe all communities should thrive and we are committed to serving as a champion for wellness by supporting the health of Albertans.
Read the full 2021 Community Accountability report PDF
Building positive outcomes

for the communities we serve
In 2020, we launched our social purpose strategy to align our business objectives and community engagement and to more closely connect our community involvements with our vision, mission and values. A fundamental aspect of how we live our commitment to our social purpose is by engaging in the communities we serve, to support all Albertans in living their best lives.
Our social purpose became even more important to us through 2021 as we expanded our focus to continue addressing community needs arising from the pandemic—in addition to expanding our focus as a champion for diversity, equity and inclusion as well as reconciliation.
We align our community impact initiatives in fulfillment of our social purpose strategy with the UN Sustainable Development Goals of Zero Hunger, Good Health and Well-Being, Quality Education and Reduced Inequalities. In 2021, 93 per cent of our community investments aligned with these four goals.
Building

vibrant communities
One of the cornerstones of our community impact initiatives is providing programs to help Albertans thrive in the communities where they live, work and play.
COVID Community Roots program
As we pivoted our community involvements through the pandemic to support priority needs related to the pandemic, we introduced the Alberta Blue Cross® COVID Community Roots Program to provide support specifically to address the needs of rural and remote communities. Through this program, we awarded a total of $262,000 to 59 diverse projects in rural and remote communities across Alberta—including initiatives supporting more than a dozen Indigenous communities across the province.
Built Together Healthy Communities grant program
As we relaunched our popular grant program in 2021, we took the opportunity to rebrand the Healthy Communities Grant Program as the Built Together program. We rebranded the program to provide greater clarity of the program's focus on funding active living infrastructure projects. We had a tremendous response to the Built Together program in 2021, receiving more than 100 applications from across Alberta.
Building

health equity
We work with dozens of organizations to ensure Albertans have access to programs and services to support and promote their health. Through 2021, we built upon this commitment as we recognized the need to continue to support health and wellness in spite of the pandemic.
Championing mental health
Recognizing that mental health has been an area of particularly high need through the pandemic, we were pleased to sponsor an adaption of the Text4Hope program in 2021 for Alberta youth. The MoreGoodDays program provides daily text messages delivering advice, support and inspiration to young people's phones.
As a sponsor of the Calgary Counselling Centre, we were pleased to help promote National Depression Screening Day in October, which included providing access to a free and confidential online screening tool.
One of our new involvements for 2021 was sponsorship of a mental health virtual speaker series with Maskwacis Cultural College, with topics ranging from youth suicide prevention to mental health first aid.
Engaging Indigenous communities
We were excited to sponsor the Still I Rise Indigenous youth summit, which engaged students from all over Alberta to participate in a full-day session focused on the importance of physical activity, mental health and well-being. More than 1,800 Indigenous and non-Indigenous students joined virtually to hear Indigenous elders share their wisdom and to hear Indigenous speakers with the intent to both inform and inspire.
As a member of the Campaign for a Smoke- Free Alberta, Alberta Blue Cross® joined in a new initiative in 2021 called the Keep Tobacco Sacred Collaboration. This community-based program, with collaborative leadership and broad participation from First Nations communities across Alberta, is intended to advance commercial tobacco use prevention among Indigenous communities by engaging First Nations elders, knowledge keepers and youth to develop and implement local initiatives to prevent and reduce commercial tobacco use and support cultural knowledge restoration of sacred and traditional tobacco.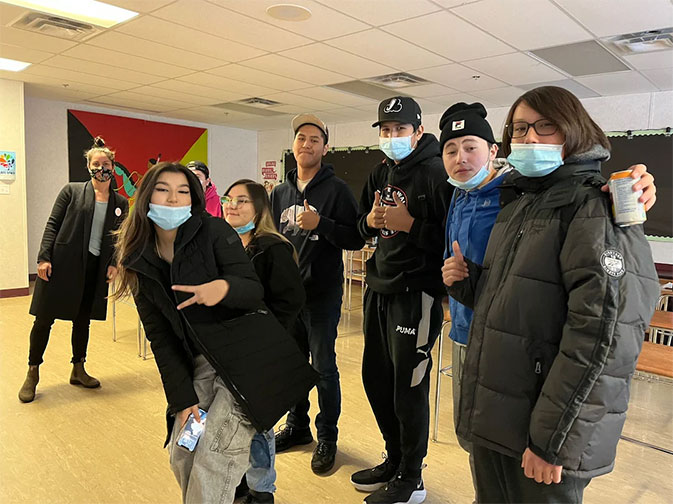 Promoting seniors' well-being
Alberta Blue Cross® worked with the Alberta Injury Prevention Centre to produce a new resource for Alberta seniors called Keeping Well. Based on a resource produced in the United Kingdom, the Keeping Well resource is a 32-page booklet that contains a myriad of useful information for seniors ranging from activity and exercise tips to advice on healthy eating, fall prevention, medication use, vision care, mental health and even avoiding fraud and scams.
Advancing equity and inclusion
In 2021, we sponsored the Calgary YWCA's transitional housing program, which helped with practical needs such as providing individually-prepared meals to program participants during the pandemic, as well as initiatives to support mental health among the women including a walking group and the creation of a community garden. In Edmonton, we were a sponsor of the YWCA counselling services program, which offers psychological counselling based on ability to pay, with priority given to those impacted by domestic violence and human trafficking, along with Indigenous and LGBTQ2S+ clients.
In the interest of promoting women's health equity, in 2021 we also sponsored a campaign to support the launch of the new Alberta Women's Health Foundation. The campaign aimed to create awareness of the gaps in women's health and support a commitment to research that will directly target women's health in Alberta.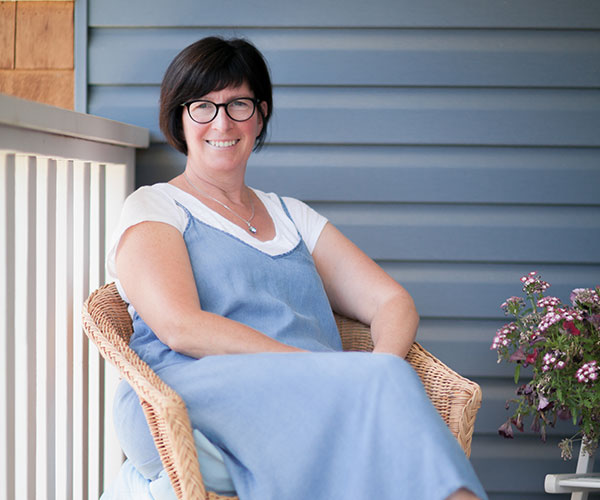 The bottom line is all about overcoming barriers to mental health care. No country anywhere in the world has been able to offer accessible, affordable mental health care for all, and it always has been an ambition of ours to do that.
Dr. Dawn Kingston, Lois Hole Hospital for Women Cross-Provincial Chair in Perinatal Mental Health
Promoting activity at all ages
The Prescription to Get Active program works with more than 800 clinics across Alberta—providing physicians and health care teams with tools to educate and support their patients on the importance of physical activity regardless of age, by providing 'prescriptions' valid at dozens of recreational and fitness facilities across the province. As a sponsor of Prescription to Get Active, we support its goal in improving the health of Albertans by breaking down barriers and supporting community members with access to activities leading toward a healthier life.
Alberta Blue Cross® is also pleased to be a long-standing sponsor of the AMA Youth Run Club, in partnership with the Alberta Medical Association and EverActive Schools. The club focuses on encouraging children to get active through a school-based, inclusive physical activity and healthy living program with hundreds of schools across the province—and upwards of 20,000 elementary-age children—participating.
We got our whole school community involved in the run—students, staff and even families (because we ended up running during online school). It was a great way to build community.
Run Club coach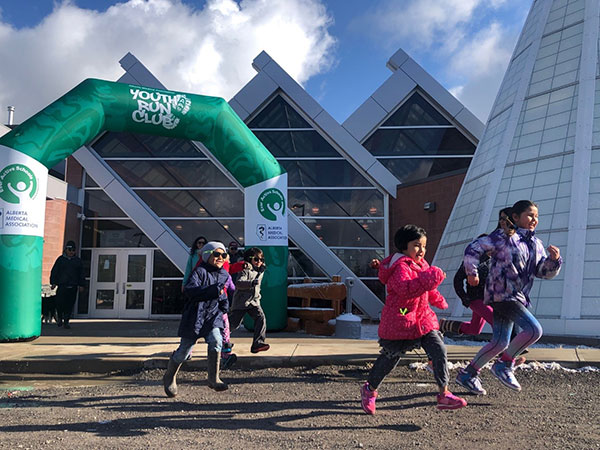 Interested in reading more?
Alberta Blue Cross® exists to promote the health and wellness of our customers and communities. Our 2021 Leger corporate reputation study results are a testament to this commitment, as we continue to exceed our reputation benchmarks in comparison to our key competitors while also maintaining an exceptionally strong brand. As we look beyond the pandemic, we remain committed to building together with our customers and communities.
Read the full 2021 Community Accountability report PDF
When Alberta Blue Cross® introduced our scholarship program back in 1998 in conjunction with our 50th anniversary, little did we know then the longevity this program would have. Over the years we have evolved and expanded upon this program to serve the evolving needs of young Albertans pursuing post-secondary studies, and we continue to receive a very positive reception to our scholarship program.
Meet one of our Indigenous scholarship recipients: Michelle Fournie
Michelle's traditional name is Tahstikiikoonima Iikkiitstakahkii, which means Centre Pole Offering Woman in the Blackfoot language. She is currently working to support Indigenous students within post-secondary systems at Bow Valley College's Iniikokaan Centre. Michelle is also a full-time graduate student at the University of Calgary. She's currently completing the Master of Education – Educational Research program in Niitsitapii ways.
"It has been a long journey towards me choosing my program and I chose this land-based traditionally directed program because of the decolonized approach to experiential learning," Michelle tells us. "I also chose this program because it is community-based and Indigenous-led. We are all living with the effects of violent interruptions of community-based traditional education systems because of the Indian residential school system, among other oppressive policy measures, to eradicate Indigenous ways of knowing, doing, being and learning. My passion to reduce barriers for Indigenous students is supported in educational research within this program."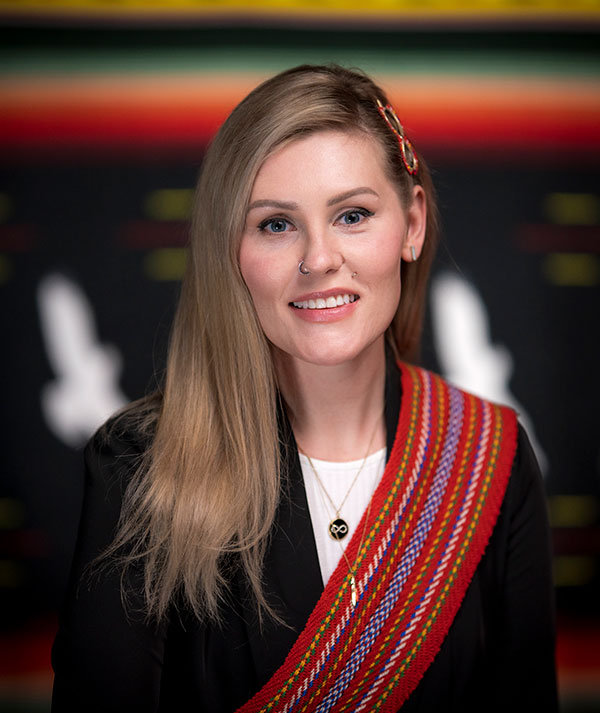 I am appreciative that this will help me follow cultural protocol for feasting, travelling and ceremony as I make my way through this land-based course. I am very grateful for the opportunity to receive support.
Michelle Fournie, Indigenous scholarship recipient
For Michelle, this scholarship is a special one because she explains there are limited funds available for graduate students. "The common belief is that if Indigenous peoples are educated enough to gain employment, all is well," she says. "However, for us to make change in policy, be leaders and influence outcomes, we must be invited to sit at the table."
We are committed to reducing our environmental footprint. Through 2021, we significantly advanced this commitment as we continue to incorporate an environmental sustainability lens across our facilities and operations.
Business process evolution
Our aggressive approach to digitization greatly reinforces Alberta Blue Cross®'s commitment to environmental sustainability. As we have continued our focus on business process automation and digitization, this effort has substantially reduced our environmental footprint.
Impact of work styles
As we transitioned our team members to working from home through the pandemic, this change has substantially reduced our corporate environmental footprint through a significant reduction in the amount of office supplies consumed.
Thinking globally, acting locally
We recognize that as an organization, we have a responsibility to reduce our footprint and increase our energy efficiency in the interest of climate action. Through 2021, we have continued to make improvements within our facilities to reduce energy consumption.
Building community

from within
Our team members share our passion for making a positive difference in the communities we serve and play an active role in our community involvements.
Hearts of Blue: Leading with courage and compassion
Despite the pandemic inhibiting our ability to gather in person, our Hearts of Blue employee-led charity had a very busy year through 2021. We expanded our donations beyond Edmonton, Calgary and our regional office locations—supporting more than 40 charitable organizations across the province including in Peace River, Lloydminster, Brooks, Hinton, Camrose, Wetaskiwin, Fort McMurray, Sylvan Lake and many other communities across Alberta.
Casual for a Cause
In 2021, we were thrilled to bring back our monthly casual for a cause fundraisers, albeit with most employees now working from home, casual days are now the standard rather than the exception. By the end of 2021, our employees donated more than for $15,000 for ten different charitable organizations—an amount matched by our community foundation.
Was this information helpful?
Thank you for your feedback
Want to learn more?
Engaging in the communities we serve to support all Albertans in living their best lives is a fundamental aspect of how we live our commitment to our social purpose. Download the full 2022 Community Accountability report to read more.